History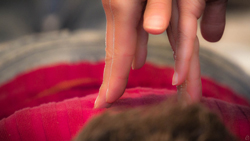 In 1996, the importance of recognizing and supporting Healing Touch research was recognized by Janet Mentgen and the Board of Healing Touch International, the not for profit branch of Healing Touch. After a six month pilot position, the American Holistic Nurses Association (AHNA) provided a start up grant to support the part-time salary of Dr. Cynthia Hutchison, RN, MSN, DNSc, HTCP/I, the current Healing Touch Program (HTP) Director, as Director of Research. Cynthia maintained this position until early 2000 when she passed it on to another doctorally prepared nurse and HT practitioner.
The role of the Director of Research was to compile Healing Touch and related research and provide reports and presentations to the Healing Touch community as well as to provide consultation as needed. A directory was created that is still available and updated by Healing Touch International). Over one hundred Healing Touch studies have been completed by researchers affiliated with universities and health care institutions over the ensuing years. The results of many of these studies are reported in peer reviewed journals.
Healing Touch Program has developed a web site (www.healingtouchresearch.com) and curriculum content in the Level 1 Notebook. This material has two purposes: 1) to encourage and empower all who practice Healing Touch in research literacy (in other words, give you the tools to be a good research consumer), and 2) to make available and educate interested persons about the most recent and best quality HT research studies as they become available.
Healing Touch Program continues to support research that studies the effects of Healing Touch as an energetic therapy as well as other forms of biofield therapy. Healing Touch Program has a research and science advisory council available to advise practitioners about research and to guide those interested in participating in research. Members of the advisory council are also available to answer questions or provide presentations and writings on Healing Touch research.